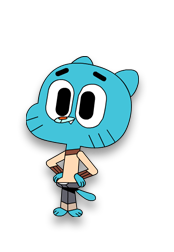 Darwin but clik on Darwin to lern more about him. Gumball is 12 and has to put up with dinosors, dounuts, robots, ghost's and explosion's all of this is in the Amazing World of Gumball new episodes monday nights right before Adventure time. His best friend is a fish named Darwin. And his father is very lazy and over wieght, while his mother is over worked and stressed. His sister is named Anias. He is madly in love with Penny, she is a peanut with antlers.
gumball is a 12 year old cat boy who is alway's "condering trouble in his caldren" as they say he had a pet gold fish named
Ad blocker interference detected!
Wikia is a free-to-use site that makes money from advertising. We have a modified experience for viewers using ad blockers

Wikia is not accessible if you've made further modifications. Remove the custom ad blocker rule(s) and the page will load as expected.