Carrie
is a student in miss. simains's class. She is one of
Gumball
's friends. she has a problem with food sence she doesn't have a body
Darwin
sugested she uses gumball darwin was being inconcidret! when carrie possesses she makes them look groosum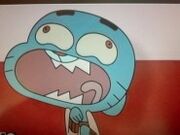 sence she is misrebel. when she was using gumballs body she was actuly eating gargeg and drinking dumpster water! and eating a flipflop!
Ad blocker interference detected!
Wikia is a free-to-use site that makes money from advertising. We have a modified experience for viewers using ad blockers

Wikia is not accessible if you've made further modifications. Remove the custom ad blocker rule(s) and the page will load as expected.